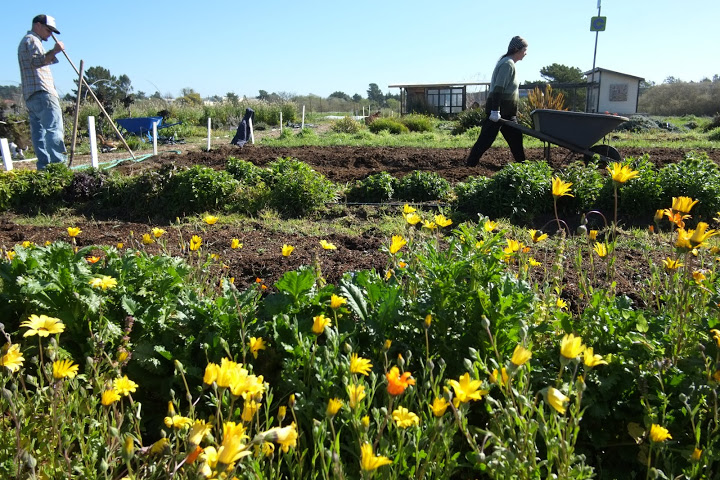 Probably the most inspiring and meaningful achievements at Homeless Garden Project are from our trainees. Here is a listing from our trainees about what they personally accomplished by participating in HGP's transitional employment program in 2012.
I'm now living indoors. I'm renting a room in a house, as of January 2013.
I started a second job at a nonprofit in March 2012.
I have gained a very strong wonderful network of friends.
My diet changed a lot during 2012 and I believe that has affected my ability to deal with challenges quite a bit. I get frustrated less easily.
My quality of life has increased at least three times over in the past year. I've gained independence, new residency, and a huge improvement in diet.
I completed an up-to-date resume and have begun looking for gainful employment.
I'm not able to save money here, but have improved my frugality.
I applied for food stamps in March when I started volunteering at the Farm, which led to my trainee position.
My support system has changed by an ever-changing set of friends and by utilizing the support of our social work interns. I feel a stronger sense of community.
Today I look at challenges as opportunities for personal growth. A positive attitude and a sense of humor can overcome just about any obstacle.
My sense of well-being or happiness is one of my greatest character assets. I'm astounded by its resilience despite outward appearance or conditions. My attention right now is self-confidence.
Being present by learning to not dwell on the past nor trip on the future brings peace of mind. Realizing that I can be my own worst enemy is huge. Helping others is a huge priority.
I've achieved a reconnection to my real self, reestablished my creative side, embraced my natural abilities and nourished my self esteem. In a sense, I've been reborn.
I'm indoors in a room with common bath. It was a long hard year, but I'm indoors.
I'm still a walker and bus rider. I've been a walker and bus rider my whole life.
I now have a resume and was able to get two short term dog and house sitting jobs, as well as caretaking jobs.
My health and well-being have improved. My choice in friends and relationships with others are different.
I can talk to my social worker now. I know people who can I do something with when I'm not working.
I am happier now. I have a reason to get up in the morning, a place to go and some income. I spend a lot of off-hours time at the farm. It is kind of like a yard for me.
The changes resulting from HGP that mean the most to me are having an income and hearing that someone values my work.
This past year I have transitioned from an S.L.E. to a mobile home where I now have my own room.
I am now looking for more work as I have just updated my resume.
I deal with challenges with a much more serene attitude- slowly and mindfully!
My sense of happiness has changed increasingly over the past 10 months because of my sobriety, which has been a challenge yet a joy.
The most important and meaningful change that has happened recently is with my mind; the change of my mind has come through my retreats, and this wonderful opportunity here at the HGP has been so beneficial.
By being in the training program at HGP, I have received tremendous help with my sobriety and self-worth and confidence.
Some changes I have been tracking include feeling less stressed while working, getting used to working with others, and learning to relate to management in a more positive way.
By working with HGP I have learned farming skills.
I have learned to be more realistic and set clearer goals for myself, and I have become more patient and feel better about my goals.
In the training program I have gained a better ability to deal with others.
Regarding my education, I am now on track to getting my GED.
In 2012, my sense of happiness has changed in that I feel I have a greater sense of purpose.
Thanks to HGP staff, I am able to get my GED and my driver's license.
I have learned that I love greenhouse work, nutritious food, and cooking.
This past year, 2012, I have transitioned from homelessness and living outdoors to living inside.
I have been able to manage my money effectively and pay my rent.
I have received a lot of support from HGP and HPHP.
Housing, my lifestyle, my money, and my friends are among the most meaningful and important changes I have seen in my life recently.
I remember working here around the holidays last year on some crafty things and some wreaths. A couple, Mike and Mary, had their beautiful baby boy with them. He was crawling and playing, and then there was a cheering crowd for him as we all watched him take his first few steps from a table to his mother's arms. I reflected and thought to myself, "Wow" as I gasped in a bittersweet moment. I felt such joy knowing that I am also taking my own first few steps toward my new views and way of life, my new journey. Life is good, be happy!