Stories from our Volunteers: 2018 Volunteer Appreciation
Claire Gallegos: A Place of Power and Beauty
The power and the beauty of the farm is hard to understand until you've walked on the soil and experienced it yourself. Both seeds and friendships are planted here and it's an honor to be able to witness and experience them growing alongside each other. On days I feel like the burdens I hold are too much to carry, I come to the farm and it all feels significantly lighter. I hope the same for everyone who moves through the Homeless Garden Project. The community and sense of belonging that can be found at the farm is a gift. The goodness that takes place here seems to work like the ripple effect and flow into the rest of the community. HGP is a special place of healing and I think there is something here to be found for everyone.
Megan Rodriquez: I Couldn't Stay Away!
While attending UCSC I was searching for an internship, something that was rewarding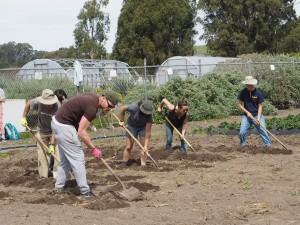 Cesar Chavez Day of Service: Volunteers in the Field
and helping others in need. When I met with HGP's Volunteer Coordinator and learned more about the HGP's mission and all the good they do for the community and people experiencing homelessness, I couldn't stay away!
The farm is a refreshing sanctuary where people reach out to others in need, exactly the kind of work I wanted to be part of. What brings me back each week is the feeling I get knowing that I am helping to break a stigma about people experiencing homelessness. The trainees at HGP produce high quality organic produce, anyone who visits the farm and tastes any of the fruit or veggies will definitely will be back for more, while also having stereotypes blown away.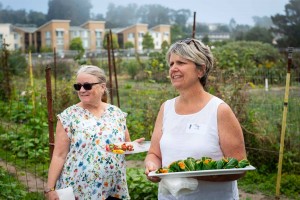 Heather and Meg volunteer at our August 18, "Growing HGP" event
Interning at the farm fits in great with my classes at UCSC. In class, we frequently discuss community approaches to problems faced by society and possible solutions to help. One of the biggest challenges in this area is the rising housing cost driving up the rates of homelessness. The Homeless Garden Project is a great example of taking that extra time to focus on each other and helping those in need. I've seen many acts of kindness on the farm between people–while also learning new skills and gaining insight in the world of organic sustainable farming.
The differences made here in people's lives is astonishing and that trickles over into the products, customers and community. Food brings people together and it's the HGP's work and the support of the community, that makes it possible for people to make real changes in their lives that ultimately improve the quality of living for everyone.
In class, I'm learning about the difficult struggle of experiencing homelessness, and I'm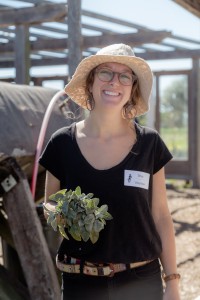 Shay, an event and farm volunteer
also meeting individuals on the farm who are faced with the same hardships. Having these interactions with trainees and staff gives a lot back to me, which I incorporate into my work at the University, but more importantly these interactions enrich my life.
Volunteering and giving back to the community has always been very important in my life and has helped me grow into the person I am today. It's a great feeling to go home after a hard day's work at the farm and know that I contributed to an amazing cause. I always tell friends and family they should come out and enjoy the beautiful farm while giving back.
Christopher Wolters: Finding New & Important Ways to Support HGP's Work
I have been volunteering at the Homeless Garden Project for just over a year now and I'm only beginning to understand the important work HGP does for people in my community. HGP puts people first. HGP understands the importance of community connections for people and connected me to volunteer opportunities. I found a place as a volunteer in the kitchen this year, coming up with a menu for Thursdays, consisting of tasty food from the farm and other food donations. I think I've done alright, gaining more compliments than complaints.
I first heard about the Homeless Garden Project when I was volunteering at the Santa Cruz AIDS project (SCAP) in the early 1990′s. HGP was donating fresh organic produce to clients experiencing food insecurities. I thought it was such a great thing the HGP was doing for people in my community.
In 2002 I left SCAP and began volunteering with Hospice of Santa Cruz. I quickly learned that the Homeless Garden Project was donating fresh organic flowers to clients who were experiencing end of life issues. Again HGP was doing great things for people in my community.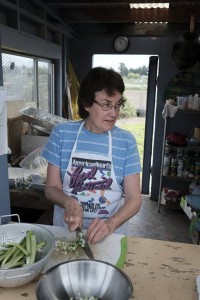 Sue cooking lunch for our crew
In the fall of 2017, I stopped by the farm to see if HGP might be a good fit for my next volunteer experience. I met a trainee that day who spoke about the feeling of being an outsider when she didn't have a home, but at the farm she was an insider, part of a connected community. Part of a family. She made me feel like an insider myself, a member of the tribe.
HGP is a Santa Cruz Institution that creates community connections which provide opportunities for so many types of people. The HGP's move to Pogonip will serve 3 times more people than it does now and continue to grow the connections it creates in Santa Cruz. I look forward to new HGP opportunities in the coming year.
Here are a few of the types of people I have witnessed being served and ways they have been served by HGP:
People who are homeless or at risk of being homeless

Re-entry training through organic farming practices
Support from HGP Social Worker
Support in finding employment and housing
People who are students doing Social Work internships

Support from HGP's LCSW Social Work Intern Supervisor
Experience issues and gain sensitivities to people experiencing homelessness and community-related issues

People needing a place to fulfill community service hours

Safe, non-judgmental place to fulfill service hours for court-assigned service, educational experience, Seniors and Church groups

People with Disabilities
Sheltered place to contribute to community
Safe place to explore, relax, meet others
People with HIV and AIDS
People with fragile mental health
People in recovery
People who are dying and their families
People who love eating fresh, sustainably grown, local organic food.
People who are seeking a place to make meaningful financial contributions.
AND people like me. Regular retired types who believe in the power of
community to meet the needs of our people wherever they are in their
lives.
As I begin my second year with HGP I look forward to being a part of the move to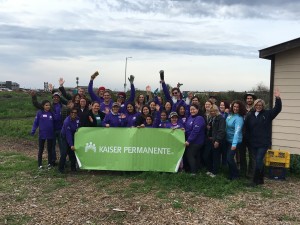 Kaiser Permanente group volunteering on Martin Luther King Jr. Day of Service
Pogonip. In doing so I want to be a part of increasing the number of community connections. I want to move from the kitchen and find new and important ways to support the work of HGP. I want to be part of the growing permanence of HGP in the Santa Cruz community.
Christopher has had many years of volunteer experience. In each place he volunteered, it was somehow connected to the Homeless Garden Project, so he decided to go straight to the source. Christopher said he immediately fell in love with the space and the people. Because he experienced homelessness when he was he was a teenager, he wonders what the program could have provided for him when he was young. Christopher explained, "Being of service is really important to me." His lesson to people who don't understand the time he invests into HGP is compassion. He voiced, "It's easy to keep people in the same box, if you don't take the time to listen to their real stories."
Arnold Alper: Satisfying to Contribute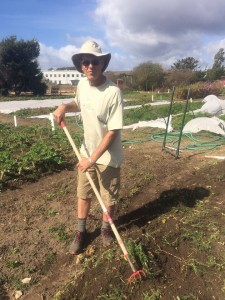 Norbert
I volunteer with HGP because I am impressed by and attracted to its program. It offers the tools to transition out of homelessness in a compassionate and supportive environment. HGP fosters connection among all members of its diverse community.
I am retired and feel that volunteering at the HGP is a good use of my time.
It is satisfying to contribute in my very small way to this outstanding organization.