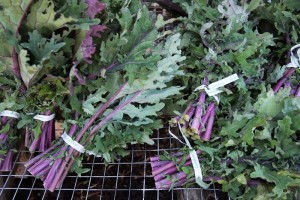 Got Kale?
Here are some fantastic Kale recipes from the 2013 Kalefest Recipe Contest and Cooking Demos–check back; there are more coming!

Nibby Bartle's Award-Winning Sweet Kale Chips
Ingredients:
1 bunch kale
3/4 cup  nuts (walnuts or almonds are good) 
1/2 cup maple syrup 
1/2tsp vanilla 
1/4 tsp cinnamon
Directions:
Tear Kale into bite size pieces. Mix in food processor everything but kale, then mix this into kale, carefully spreading nut/syrup mix onto each leaf before spreading out single layer onto baking sheet lined with baking parchment. Bake at 300 degrees  for about 10 minutes until golden but not too brown.
Some take longer than 10 minutes but keep an eye on them, they can go from golden to black in an inattentive minute.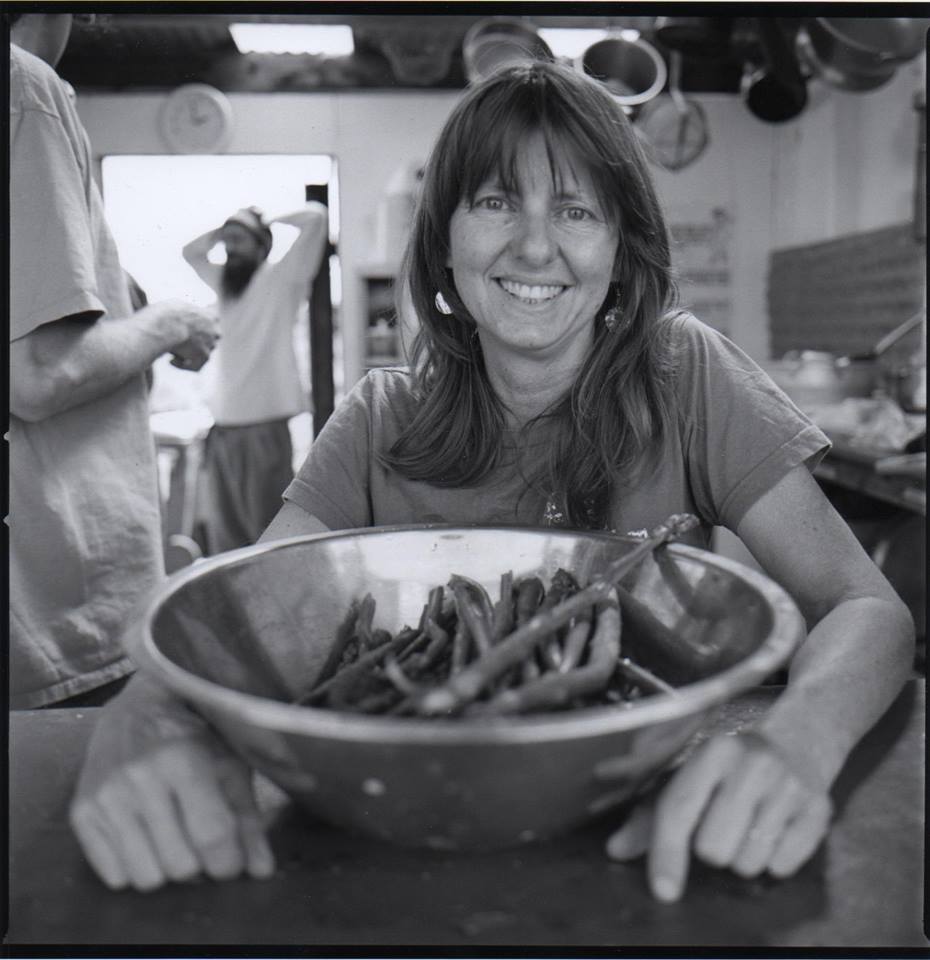 —————————————————-
Sandi Rechenmacher's Purple Green Smoothie
Here's another brilliant answer to the question "How do I fit more life-giving greens into my day?" The virtues of green smoothies are countless: chlorophyll, fiber, anti-oxidants, vitamins, minerals,enzymes, amino acids…
All of these fine nutrients are those that strengthen one's immune system for optimal disease prevention. If you want to pack a punch into your daily routine, dial in a green smoothie.While you are at it, make enough to share with a friend (or put one more serving in the fridge for later).
Makes 2-4 servings
Ingredients:
2 ½ cups water
Large handful of greens (spinach, collards, kale, chard, or beet greens)
4-6 drops liquid stevia (and/or a small handful of raisins or dates for sweetness)
¼ section of lemon, peel and all
1" piece of fresh ginger, peel and all
2 oranges, peeled
1 apple, cored
1 banana, peeled
2 cups fresh or frozen blueberries (or frozen mixed berries, pineapple, or any other fruit you like)
Directions:
Blend water (some of this amount can be ice) along with the greens, liquid stevia (dried fruit), lemon, and fresh ginger for about 30-40 seconds, until smooth. 
Add fruit and blend again for 30+ seconds, until all ingredients are blended and the color of the smoothie is uniform throughout. Simple as that. Making enough for now AND later is an idea fantastico! Cut this recipe in half if your blender is on the small side.
Sandi Rechenmacher Nutrition Education & Consultation
Contact Sandi at simplynutritious@gmail.com
—————————————————-
Recipes From Chef Jenny Brewer
Kale and Tahini Salad 
Miso: is a concentrated, savory paste made from soybeans mixed with a grain and fermented with a yeast mold (koji) and then combined with salt and water. It's a good source of protein and beneficial bacteria. Light Miso (White and yellow) is lightest in flavor. It is well suited for salad dressings and sauces. Red and Dark Miso are strong and salty and generally used for stews, soups and braised foods.
Ingredients:
1 bunch dinosaur or lacinato kale, stems removed and discarded, leaves thinly sliced
3 cloves garlic, minced
1/4 cup raw tahini
2 Tablespoons miso
2-3 Tablespoons fresh lemon juice
¼-1/2 cup water
3 plum or dry farmed tomatoes, diced
3 scallions, sliced
1 cup cooked brown rice (or any other grain)
Directions:
Place sliced kale in a bowl, sprinkle with sea salt and "massage" for 3 minutes until kale starts to break down.
In a bowl whisk together garlic, tahini, miso, water and lemon juice. Add water to thin dressing. Stir tahini sauce into kale and add tomato, scallions and grains. Refrigerate until ready to eat.
Kale Salad with Avocado
Ingredients:
1 bunch dinosaur or lacinato kale, stems removed and discarded, leaves thinly sliced
2-3 Tablespoons lemon juice
3 Tablespoons extra-virgin olive oil
1 small red pepper, deeded and diced
¼ to ½ medium red onion, halved and thinly sliced
1 ripe avocado, cut into chunks
1/2 cup raw pumpkin seeds, optional
Directions:
In a large bowl, combine kale, and a pinch of sea salt. Massage kale for a few minutes until it begins to break down and turn bright green. Add lemon juice, olive oil, pepper and onion and season to taste with sea salt and pepper.
Before serving, toss in pumpkin seeds and serve cold or at room temperature.
Recipes from Chef Jenny Brewer from www.nourishingnutrition.com
—————————————————-
Look for info about Chef Jenny Brewer at our SUSTAIN Farm Dinner on August 24. Tickets and info here:http://sustaindinners.eventbrite.com/