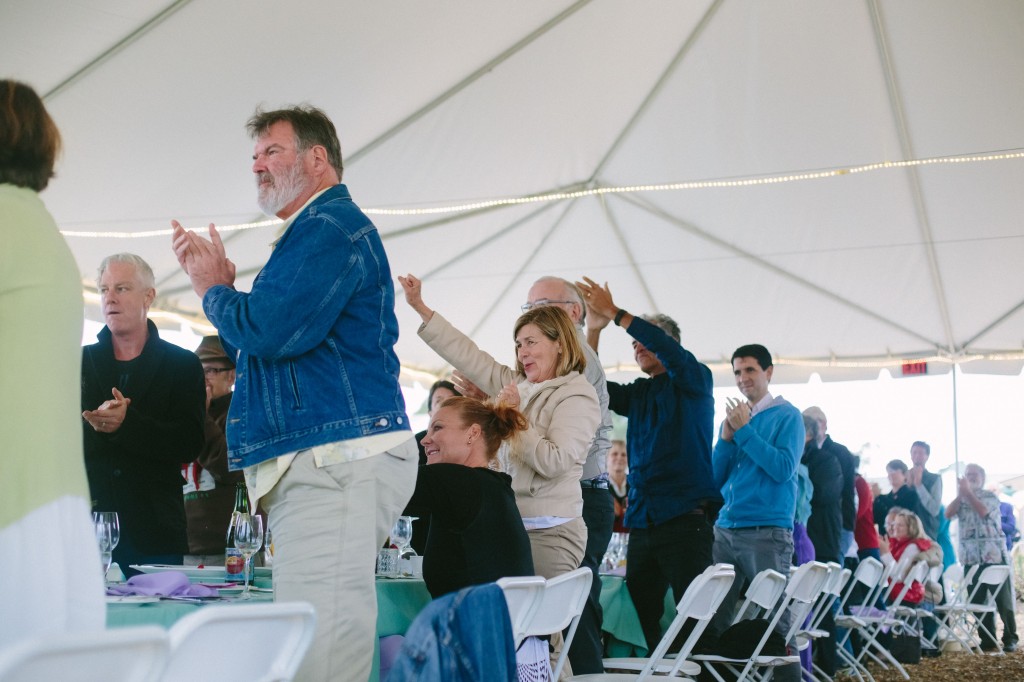 Hello everyone, I'd like to thank everybody for coming out to visit our farm. "Our farm." It's funny when I say "our farm." I think of all the numerous people that have come here whether it to be a volunteer, donate, find some peace and quiet, or like many of us in the trainee program, to help put our lives back together and give it purpose. All of us have left our mark here, but more apparent is the mark that this incredible place leaves on you, as well as a sense of self worth, dignity and confidence that have helped me to truly define who and what I am, and what I want to be.
How did I come to this point? Well let me tell you a little bit about what defines me. I grew up in a split household. One, a military family with strict discipline and harsh consequences as the eldest to my 3 half brothers and the other, considered the black sheep. I felt alone, out of place and incapable of doing anything right, no matter where I was. At age 11, I thought I had found the answer to those feelings in drugs. My self-proclaimed answer has taken me everywhere from rehab and hospitals to near death to jails and wilderness camps; finally at 30 years old in front of judges, with three years of prison hanging over my head asking me, "What are you doing with your life?" I have tried recovery numerous times but without any meaningful purpose to guide my actions, I always seemed to fall short of success.
One of my biggest defining points of my life was on October 29, 2004. Four months before I turned 21, I became a father. My son Casey became the light of my life. My son and I share a very special bond that can only be defined as unconditional love and understanding. We have gone through CPS together, the special women in our lives leaving us, homelessness, all the while trying to manage his symptoms. In 2009, he was diagnosed with autism and severe ADHD and in 2010 received his third classification of being a runner.
These things and more have strengthened our bond to one another. We truly are each other's shadow. Being the father to such a special boy means I have been gifted with patience, understanding, compassion and unconditional love. Now as parents, we're expected to know everything, have all the answers and be the perfect role models to our children. But in reality, it's not the case. We make mistakes and learn along the way, just as they do. After everything I've gone through and we've gone through, my goal, my biggest hope is that I will have raised my son to be a better person then I was and to not follow in all of dads' footsteps.
All these events, leaning experiences and people are important defining moments in my life but they do not solely define who and what I am. Up until the beginning of the year, I couldn't see that. I let people and my past define my future. In mid January of this year, it was suggested by several close friends to check out this place, this Homeless Garden Project, and see what it was all about.
I had no idea what to expect. I was a couple months' clean with no real sight to aim for. I knew how to care for my son and run a functional home, but didn't know how to make myself happy. In a very short time I began to feel good about what I was accomplishing at the farm and a spark began to ignite inside of me. What had started as my own little personal therapy session grew and blossomed into a bright new-found passion, and I began to feel my purpose. February 1, 2015 marked a fresh start as my first official day as a trainee. Now it's August and I have been an official trainee for 6 ½ months. I have learned everything from irrigation to how to prep a bed, plant it, maintain it, harvest it, and break it down to start over. Let's not forget keeping your soil healthy by crop rotation and cover cropping. At the end of this month I will have successfully completed my two- month post in the green house and am going to take it to the next level, and learn the behind-the-scenes work that comes with managing a farm.
All these skills are just the tip of the mark left on me by this remarkable place. This is my home, my safe place, my tranquil serenity. And because of the positive effect this place has, I was discharged from probation early and my felony has been erased from my record.
This oasis of hope has given me purpose and a goal. I now know what I want to do with my life. In the spring of 2016, I will be enrolling at Cabrillo College in agriculture and horticulture to become a farmer. I have had several job offers when I finish the program, but my ultimate goal is to have my own farm and teach children and adults with similar characteristics to my son so that I can pass on the same feelings of accomplishment, confidence, purpose, and belonging that this place has passed on to me.
Without this place, without the bosses we have–Darrie, Chris, Lindsay, and Mike, (who like me started as a trainee and became much more)–without their understanding, compassion and guidance and the support of the many people who support our farm,  I and many others like me would be lost, destroyed, incarcerated, or worse. 
 I hope this place lasts for many, many more years to help show the hundreds or eventhousands of homeless people that are sick, tired, hurting or just plain stuck in a pit of unending despair that there is help, hope and a real light at the end of the tunnel. Thank you all for listening, have a great night.
–Chris Roberts, Homeless Garden Project trainee, Talk at August 22, 2015 Sustain Farm Dinner in honor of HGP 25 Year Anniversary