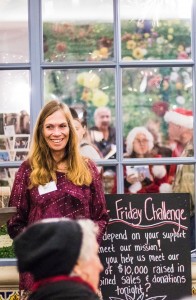 Donna spoke at our 2017 Downtown Store Gala Holiday Open House on December 1, 2017. The trainees had been working in the workshop for over a month, creating wreaths, decorating our beeswax candles, making our bath and body products, baking mixes, herb salts and much more! This Open House celebrated our trainees' work and achievements.
Hello everyone, welcome. I'm Donna Marie and I'm a trainee at the Homeless Garden Project in my fifth month of the up-to-12-months training and transitional employment program – the time has gone by so fast. I feel very honored to be asked to speak here tonight.
The Homeless Garden Project employs people who are homeless and trains them to get back into the working world. HGP is a farming program that teaches people all aspects of organic gardening, including planting, growing, and harvesting plants and vegetables. It's a place that can really give you passion about going to work.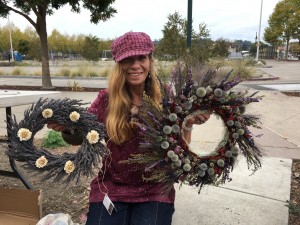 Years ago, before I became homeless, I owned a flower shop, so when I came to thegarden, I was excited to plant and grow flowers. I enjoy making the flowers into products such as wreaths, decorated candles, lotions, teas, and salts – all of which are sold to the public here at this location.
I've been a hard worker all my life, so I never thought I would be homeless, but homelessness happens. If you lose your job suddenly, you are two paychecks away from being on the street.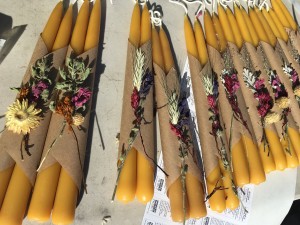 After being on the street a long time, I promised myself to be inside before the end of this year. First, I worked to get my driver's license back and get a Section 8 voucher. I also trained to be an In-Home Support Service worker (IHSS).
Then, I got employed at HGP. The job at the Garden was what I needed to get housed – it allowed me to be accepted as a resident at Page Smith Community House. I've been there for two months now. I share a house with 4 other people and it's just wonderful to be inside and not have to deal with cold weather or spend all day "outside." I'm so grateful to have a roof over my head.
I've also found two other jobs since starting this program. In addition to the 20 hours per week I work at HGP, I work 25 hours per week though In-Home Support Services with Susan, who is 79 and blind. Meeting her was love at first sight. I also clean a house once per week, as well.
When I was homeless, I spent a lot of my time trying to help others. The garden has taught me to focus on myself first before I can help anyone else – an important lesson. Working at the garden, I gained structure – something I was without on the streets. Without it, you go nowhere.
Love is what they teach at the garden – to love yourself and then others. Listen and love each other and love what you do. I love working at the Homeless Garden Project.
–Donna Marie