In early February I was invited to give a brief presentation to trainees of the Homeless Garden Project to share some of the things an employer looks for in the job application and interview process. There was a lively exchange of questions and answers and further discussion of potential job opportunities in the local horticulture industry.
Immediately following the presentation I was approached by Andrew Albright, one of the trainees, who introduced himself and asked if there were any employment opportunities at my business. We only spoke for a few minutes, but there was something about his smile, demeanor and sincerity that left a very positive impression. I encouraged Andrew to come in and fill out an application.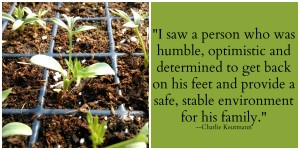 Andrew submitted an application within the week and soon after we met for an interview. I was impressed with the honesty and sincerity with which Andrew spoke of his past experiences, present condition and outlook for the future. I saw a person who was humble, optimistic and determined to get back on his feet and provide a safe, stable environment for his family. I offered him a part time, seasonal position that would accommodate his continued participation at the Homeless Garden Project.
In the two months that Andrew has been with us my initial impressions have been absolutely validated. He arrives at work early with a positive attitude and an infectious enthusiasm which is enjoyed by both coworkers and customers. He is an attentive listener, follows directions closely, and finds projects to keep himself busy if none are assigned.
In summary, it has been a pleasure working with Andrew and a rewarding experience for me personally to be part of his journey. I am confident that he will continue to grow and achieve his goals and look forward to assisting where I can.
Charlie and Maria Keutmann have owned and operated The Garden Company Nursery and Gift Shop, on Mission Street in Santa Cruz, since 1986.
They bought the failing garden center after several years in the corporate world, based on Charlie's horticultural academic background, Maria's love of gardening, and an untapped entrepreneurial spirit. Their greatest rewards have come from the relationships established with customers and coworkers through the years.
For more information about hiring Homeless Garden Project trainees in your business, participating in one of our employer panels, or assisting with our employment and career search workshops, please contact Executive Director, Darrie Ganzhorn, 831.426.3609.12