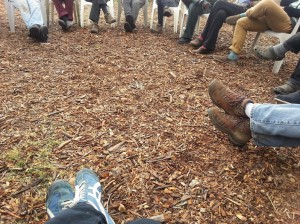 On most Tuesday mornings for the last five years or so, I've attended "Circle" meetings at the Homeless Garden Project (HGP). Circle is held at the beginning of the work week and is attended by all of the people participating in the Garden's job training program–members of the small staff, graduates of the program who come back for an occasional visit, invited guests and a few volunteers. For volunteers like me, attendance at the meeting is a privilege I don't take lightly. The Homeless Garden Project is a very special place and Circle a very special place within the Project.
I started volunteering with Homeless Garden Project in 1995. I've volunteered in many capacities from the Board of Directors to a farmhand wanting to really absorb what the Homeless Garden is all about. I'm still learning and continue to be humbled. Circle is my weekly fix, my check in, an anchor in my increasingly calendar-driven schedule. Sitting in a circle of people every week–a circle that's ever changing as people come and go but always made up of people changing their lives–has become part of my routine. It puts me in touch with a part of myself that I like, and I'm grateful for the opportunity to participate in whatever small way I can.
On these mornings, we settle into a "sort of" circle, arranging a haphazard array of office chairs, plastic lawn chairs or really anything that can support one's weight. This crew starts on time and this meeting kicks off at 9AM. It wasn't always that way, but this crew means business.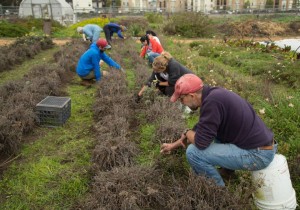 And, the business of being an organic farm and being a social service organization in the same skin is no easy business. It requires paying attention. In farming, if you don't pay attention to what the land is telling you, you're likely to get into trouble. There's a lot to know and a lot to learn. If you were looking for a good business to embed in an employment training program, you'd be hard pressed to find a better model than small-scale organic farming. And, the brand of farming and enterprise the HGP does is truly unique.
Circle has been evolving into a "check in place" for the program's participants for a quarter century and is a great example of how HGP is working to develop and support the holistic development of its participants. In its current iteration, there's a thought-provoking question offered up by whoever is running the meeting–usually a staff member, but sometimes a trainee. It's a place to reconnect with others and sometimes with yourself, and it's a place where it feels safe to share what's going on in your life. Sometimes the meetings can be inspirational and emotionally moving. They can turn philosophical and introspective. Or, they can be practical and down to earth, especially when held in the open air at the farm. It's always interesting and it's always rejuvenating to be at the farm.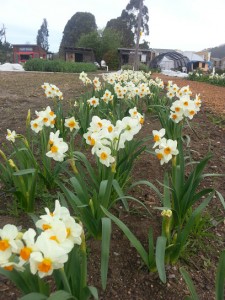 I wish I could explain with words what it's like to actually be on the farm, joining thosedoing the hard work of growing real food, and sitting together at lunch to eat that same food. I can't really explain, but learning it for yourself is easy.
Volunteering for the Homeless Garden Projects has got to be one of the best-kept secrets in Santa Cruz. This gem of an organization is set up to make volunteering easy and fun–on the farm, in the store or at one of the Project's many special events. You owe it to yourself to get involved and join the growing HGP family. Check out their various volunteer opportunities here . In the process, you might learn a bit about what it takes to run an organic farm and also how it is that HGP achieves its mission: "In the soil of our urban farm and garden, people find the tools they need to build a home in the world."
–Matt Guerrieri