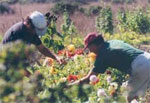 "Beauty saves. Beauty heals. Beauty motivates. Beauty unites. Beauty returns us to our
origins, and here lies the ultimate act of saving, of healing, of overcoming dualism." – Matthew Fox
One of the qualities of our farm that engages me and sustains my work at HGP is beauty. In this article, I want to celebrate the farm's beauty and invite you to engage with it also. In the world of survival, beauty may seem a luxury. At the farm, beauty may seem accidental or unavoidable— the sun breaking through the fog, the rows of colors as you look across the beds in full bloom, dew on dahlia petals, or the bronze heads of lettuces with their nesting leaves.
In my experience, beauty connects me to the moment, and to larger questions concerning what it means to be human. Why is seeing a beautiful painting or reading great literature nourishing? In her book, On Beauty and Being Just, Elaine Scarry "argues that beauty continually renews our search for truth and presses us toward a greater concern for justice." The processes at the farm — photosynthesis, germination, companion planting—are marvelously elegant. It has always fascinated me that there is a part of photosynthesis that takes place in the dark. To be able to coax life—and this kind of beauty— from soil is a life-affirming experience.

And of course, there are the people who make the farm work— the trainees, volunteers and staff. Watching these people change and grow is beautiful. As Tomlyn, an early HGP trainee says in Growing Hope: The Story of the Homeless Garden Project, "The Project is a gentle soft way for people to learn about homelessness and to see that people are people. It's not dirty, or ugly. People are people and they're beautiful."

This farm is something we've all made together; we can't do it without your support. And together, let us sustain the beauty that is the Homeless Garden Project.
— Darrie Ganzhorn, HGP Executive Director