More than 2,000 people volunteer each year at Homeless Garden Project, building bridges in our community that make our organization and Santa Cruz strong. We hear from volunteers and trainees every day about the value of our Volunteer and Community Education program, Cultivating Community.
Here are the stories of three of our very special volunteers.
Patti Workman, Volunteer Bookkeeper
As a small non-profit that operates two enterprises and pays wages to the people we serve, HGP has fairly complex bookkeeping processes.   Some years back, we were fortunate to work with Lauren, an intern from the UCSC Economics Department. Lauren came with glowing recommendations and improved our bookkeeping, building a very robust process.  When she graduated from UCSC, Lauren wanted to ensure that her work would continue at this high level. The only person she considered adequate was her mother, a retired engineer, Patti Workman.
Patti loves contributing and loves Santa Cruz. She was looking for a way to get more involved in Santa Cruz. "Volunteering at HGP fulfilled so many things for me. I couldn't see myself working at the farm with our trainees. I can't keep anything growing at home. But I felt confident dealing with numbers. Certainly, I'm only a small cog in a larger process to impact our community.
"But HGP makes that impact in the community and I was proud to be a part of the organization. I hear so much about homelessness in California. The numbers are staggering. I believe we should invest in solutions to homelessness, such as HGP."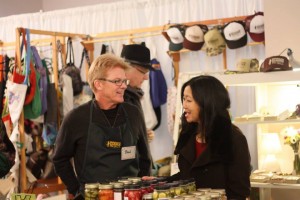 Patti's consistency inspires us–top priority for the bookkeeping function. This is not a high-profile, glory-filled volunteer position. Rather, it is a behind-the-scenes function, which requires discipline, attention to detail, consistency and tirelessness. Patti always brought a fresh energy and cheerfulness into the office. We are inspired by her ability to recognize how her role fit into the bigger picture. Her enormous commitment to the volunteer position and to making a difference in the lives of people experiencing homelessness inspires deep appreciation!
In Patti's words, "It was a great opportunity for me. I was in my retirement years, my children were mostly gone. As we're all living longer, we have more opportunities to contribute. I hope more people can have and take the opportunity to contribute to their community like this."
Patrick Teverbaugh and the Zen Center
Over 10 years ago, the Zen Center offered to cook lunch for the trainees in the Homeless Garden Project's transitional employment and job training program each Friday at the farm. This offer marked the beginning of a formal lunch program at the farm, bringing lunch to a higher level than it had ever been previously. The Zen Center volunteers, under the leadership and facilitation of Patrick, provide a healthy, simple and nutritious lunch drawing from local, organic produce. Each week, they bring the most delicious cornbread, a large pot of soup, and cooked brown rice to share.
Even during the winter months, the Zen Center has adapted to the changing seasonal structure of our programs by transporting lunch to the trainees working in the winter workshop.
The Zen Center and Patrick have made a huge impact on the meal program by example. Even the lunches not prepared on Fridays have taken on the structure and elegance of a complete yet simple meal. The Zen Center volunteers continue to bring a sense of abundance, warmth and care to each lunch they serve to staff, trainees and volunteers.
The Zen Center and Patrick have also modeled what it means to make a long-term, consistent commitment to community, developing relationships with folks at the farm and with the organization over a very long period of time. This consistency cannot be over-emphasized, amidst the constantly changing nature of the farm and crew, as well as the instability that comes with experiencing homelessness. The routine and anticipation for "cornbread Fridays" continues to provide a sense of structure and community each week to all who are involved with the Project. Finally, it is clear that each volunteer who is involved in making the lunches a reality brings intention, respect and a deep commitment to service in their participation, both behind the scenes and in serving the food and relating to the farm.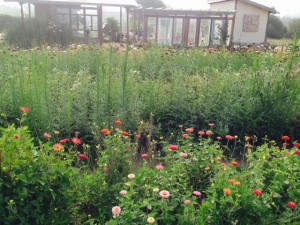 Joanne Slater, Enterprise Volunteer
Joanne Slater began volunteering with the Homeless Garden Project at the beginning of 2017. Joanne worked with us through Second Careers Employment Program, then moved on to work with another nonprofit organization. She volunteered with us in her free time.
Joanne primarily volunteered within the Value-Added Enterprise where we make products using herbs and flowers from our organic farm to sell in our retail store and online. In her volunteer role, she is committed to getting each and every task perfect to ensure the integrity of the products and to shine the brightest light on the Project. She is always willing and able to take on any new task asked of her, and shows up each week with a deep care and contagious enthusiasm for the work.
From experimenting with calendula and lavender to infuse in various lotions and salves to staffing the pop-up store, Joanne has integrated herself into multiple aspects of the value-added enterprise in significant and inspiring ways. For example, the Project received a donation of coffee bean burlap bags and came up with market tote bag idea. Joanne worked with a local artist and seamstress to make a concept bag and has been sewing them at home for the Project to sell this holiday season. The Project also received a donation of yarn in many different colors. Joanne took this home too, to make hats, infinity scarves and fingerless gloves to be sold in the retail store. Finally, Joanne has also been trained in our retail store and works to cover staff members when we are unavailable.
As a Service Enterprise–an organization that fundamentally leverages volunteers and their skills across all levels of the organization to successfully deliver on our social mission–Joanne plays an important role. By taking on all of these varied projects and roles that we would otherwise not have the capacity to complete, Joanne supports the enterprise activities that are the basis of our training program and employment activities, while also bringing in revenue. Her dedication and fortitude are immeasurable. Thank you Joanne!