I would like to start by saying that I am not one who likes to be in the spotlight. I find this to be awkward and humbling, sharing of myself with all of you, and at the same time I consider it an honor and something to be proud of.
My first experience with the HGP was 13 years ago, 2008. I was a closed-minded, drug addicted, homeless person, with a bad attitude. I was given an opportunity to work for HGP. I did not see it for the positive experience it could have been; I lasted 2 months before I quit.
I recently was given a second opportunity to work for HGP again. I started work on October 7th, 2021. I jumped at the chance. My whole attitude and outlook has changed from then to now. Through seven years of recovery from alcohol and drugs and attending and working 12 step programs, I am a changed person.
Now I can see clearly the benefits of working for HGP. I have lived in Santa Cruz for 30 years. I have been homeless for more than half. I have recently been homeless again for the last year. There is a stigma that comes with being homeless, I was finding it hard to find a job. I was desperate to find work, a source of income, so I could afford my basic needs. I could not pay my phone bill or do laundry. I was at a point where I was starting to lose hope.
Then I ran into Darrie, she told me that HGP had a few positions open and that I should apply. So I met with Evan and Francesca went through the 2-week trial hire period and got hired on as a trainee. Now it is 1 and ½ months later, and I feel so much better about myself. I got back some of my self-esteem. I can afford to pay for my basic needs and a few extras. I bought a nice bike for transportation, and soon I will have storage to keep my things safe and so I don't have to carry a 50 lb. backpack everywhere I go. HGP has given me that and so much more.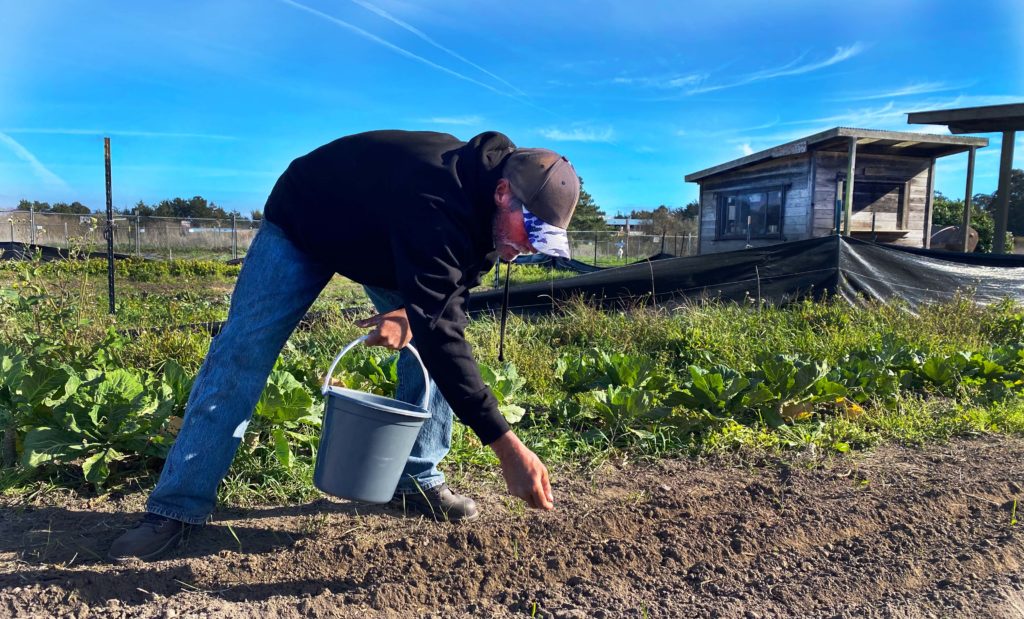 I get paid to learn about farming and agriculture, and to work on myself and grow spiritually. HGP has connected me with social workers to help me to achieve my goals. For example, help with my resume, help to find future employment, and help with finding affordable housing. HGP is giving me the tools and the help that I need to succeed.
Being homeless I am never happy, but sometimes I am content. Since I started working for HGP and earning a paycheck I have been content. My god, just having a bike that's not stolen is a godsend. I use to have to walk everywhere, about 8 miles a day for most of a year.
Now I have a storage unit, a place to keep my 50 lb. backpack and my other things safe, and it also doubles as a dressing room. I also have a way to charge my phone, so I don't have to steal electricity from a church. Even though I sort of have permission, it still feels like stealing. I am really grateful for these things, that most people take for granted. I am a jack of all trades, I know a little about a lot of things, but I do not have a particular skill set to earn a prevailing wage in today's job market.
So an achievable goal for me as far as future employment will be working full time permanent, for some place like Safeway or New Leaf Market. One of my other goals as far as affordable housing goes, is really more like a dream.
What if after living in Santa Cruz for 30 years, I could wind up in one of those tiny apartments in the St. George on the 3rd or 4th floor overlooking Front St.? For me that would be the same as some wealthy person living in a high rise condo. Considering we live in one of the most beautiful places in the world. Wouldn't that be awesome?
In closing, I would like to thank you for your time and allowing me to share my HGP experience with you.
–Dave Hagee spoke at our December 2021 Virtual Celebration, along with Sonja Brunner, Mayor Donna Meyers, and Gail Pellerin. You can watch the full presentation below or on HGP's YouTube page. Darrie's introduction begins at 10:50 and Dave's talk begins at 12:12.
20th Anniversary Addiction Recovery agricultural therapy Annual Donor Report Annual Report annual volunteer report Articles chef Community Community Education Cooking CSA event Food Fundraising garden growth Health Holiday Store Homeless Garden Project In the News Homelessness Intern Experience Internships Measuring Impact Memorial Mental Health Personal Stories Recovery Scholarship Shares Seeds for Sustainable Future Social Justice story Sustainable Agriculture Sustain Supper Trainee Program Training Program Transformation Transitional Jobs Tribute True Stories Volunteer Volunteer Appreciation Volunteer Experience Volunteer Program Women's Organic Flower Enterprise