Value in our Enterprises
Value starts at our farm as trainees nurture the soil, grow vegetables and share the bounty with our community. But trainees gain valuable work skills and continue to add value from our farm to our workshop and retail store, where products are handmade and used to raise money for our projects.
Farm Enterprises
In 2014 we harvested 35,000 lbs. of produce.
We planted 37 types of vegetables, which included 125 different varieties; and 70 varieties of flowers.
Our Farm Stand and Wholesale revenue more than doubled over the prior year to nearly $22,000.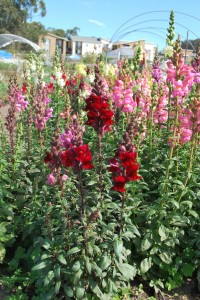 CSA, Wholesale, Events       12,000 lb                      
U-pick estimate                    12,000 lb                  
Farm stand                              9,000 lb              
Kitchen                                     2,000 lb
Total 35,000 lb
Our Value-added Enterprise
Since our beginning, as a means to expand the skills our trainees learn and practice, bring in revenue to support our programs, and keep our programs running during the rainy season, we've "added value" to the "raw agricultural products" we harvest from our farm.
"Besides offering a higher return, value-added products can open new markets, create recognition for a farm, expand the market season, and make a positive contribution to the community. However, adding value … is a long-term approach, not a 'quick fix.' It requires the willingness and ability to take on risk, as well as adequate capital, management skills, and personal skills—such as the ability to interact with the public—to succeed." –from "Adding Value to Farm Products: An Overview–ATTRA — National Sustainable Agriculture Information Service, managed by the National Center for Appropriate Technology(NCAT)
Our biggest news is that we opened a year-round Downtown Retail Store!
This chart depicts the number of transactions during each quarter
(Q1: Jan-Mar, Q2: Apr-Jun, Q3: July-Sept, Q4: Oct-Dec)
Our Accomplishments
Our Downtown Store allows us to expand our outreach and educationAuthor Wallace J Nichols holds up a blue marble at his "Blue Mind" book readingopportunities
In 2014, we held over 15 special events (First Fridays, book signings, cooking demo's, etc.)  A few of our most successful were –

June First Friday, "Land & Sea theme"  – We partnered with Save our Shores, Elkhorn Slough Foundation, Surfrider Foundation, O'Neill Sea Odyssey, Santa Cruz Waves & CCOF to show appreciation of our watershed and the ocean ecosystem.
August First Friday, "The Art of Food" – We invited several local food artisans to speak and provide samples of their artisanal foods. Participants included Friend in Cheeses Jam co, Drink La Vie, Blossom's Best, Cookbook Author Elizabeth Borelli
Book Reading and Signing, Dr. Wallace J Nichols of "Blue Mind"

We launched a Retail Training Program. Program participants work in the store weekly and gain customer service, communication and point of sale skills
Based on research and the creativity of our team, we added several new products to our line up
New and best selling products
Gardener's Soap (great paired with our Hand salve)
Chocolate Rosemary Brownie mix
Strawberry Lemon Pancake mix (seasonal)
Basil Lemon Salt (seasonal)
Solid Lavender Perfume
Healing Lip Balms
All Natural Pet Salve