Training Program graduate Shadley Stephens reflects on his time with HGP.
When HGP found me, I was a lost soul in an orange jump-suit. I was stuck in a vicious cycle of addiction, homelessness, probation, and incarceration, and I had no idea how I could get myself out of the mess I found myself in. I got out of jail in December of 2018, and decided to try going to a program, in which one of the requirements was obtaining a job. Darrie had spoken to the inmates at the jail about HGP and all the opportunities they had to offer someone like me, so I decided to go and find her at the office. She said she remembered me from her visit at the jail. Not only did she remember me, but she even remembered which group of inmates I was in, as well as the exact seat that I sat in. I was impressed to say the least.
I started working for HGP as a trainee in January 2019. I was placed on field crew, and I was taught how to build beds by Brenda the Badass in the freezing cold, with the rain pouring down on us non-stop from above. I remember thinking to myself, "We'll see how long this lasts." The farm was super wet and muddy, and it was a challenge getting all the beds built and ready for planting, but we managed somehow. A few months later, there was an announcement at circle about two new Crew Lead positions opening up, so I decided to apply, and got the job as Field Crew Lead.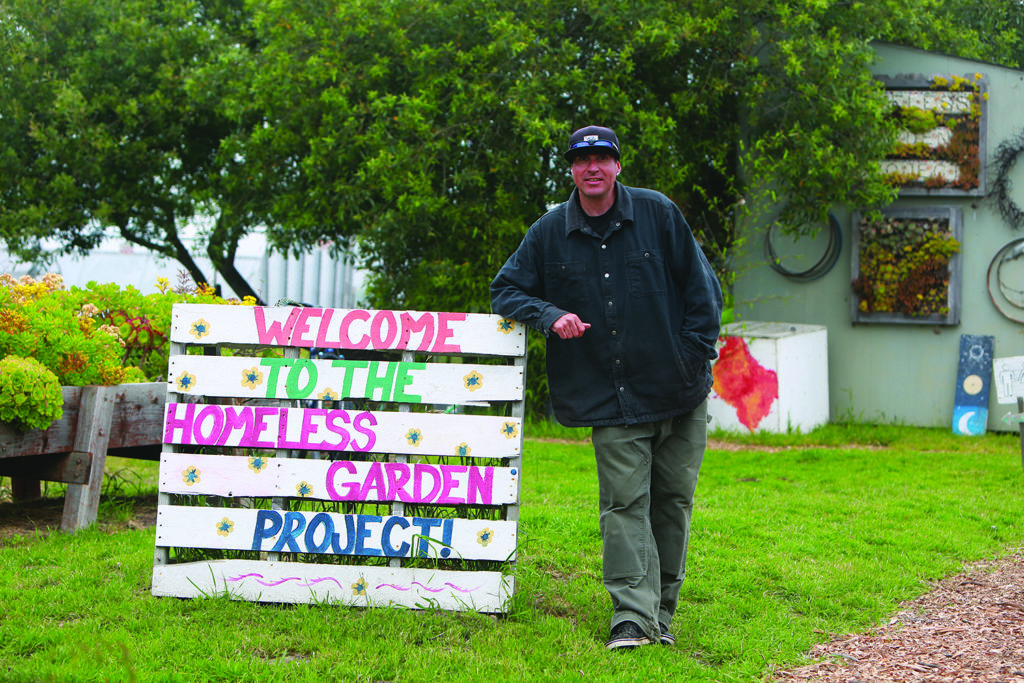 It was right around this time that I met Charlie. We were doing a job training series on Thursday mornings. We typed up our resumes and cover letters, and then we had mock interviews to help us get a feel for what an actual job interview would be like. Charlie, owner of The Garden Company was my interviewer, and I must say that even though it was a mock interview, I remember feeling a little intimidated by Charlie and his choice of questions. But I survived the interview, and was receptive to his humbly honest feedback, and we had a pleasant conversation afterwards. Some people say that everything happens for a reason, and I couldn't agree more, because that next weekend I started working at The Garden Company on the weekends as a cashier.
Working for HGP as a Crew Lead has been one of the most valuable and rewarding experiences of my entire life. It gave me a chance to return some of that healthy support that was so generously given to me when I first got here. I was given the gift of working alongside a solid group of beautiful people who knew my struggles, because they had all been through similar struggles of their own. Getting dirty and growing beautiful organic produce while we all grew as human beings. I was truly blessed to be here during the time that I was, because as Farmer Mike put it: He's been here for 12 years, and this is the best crew he's seen come through here in that time. Now that means something. I will always remember the way those words made me feel so proud as I looked around the circle at my fellow comrades, and the memory of that feeling will undoubtedly stick with me for the rest of my life.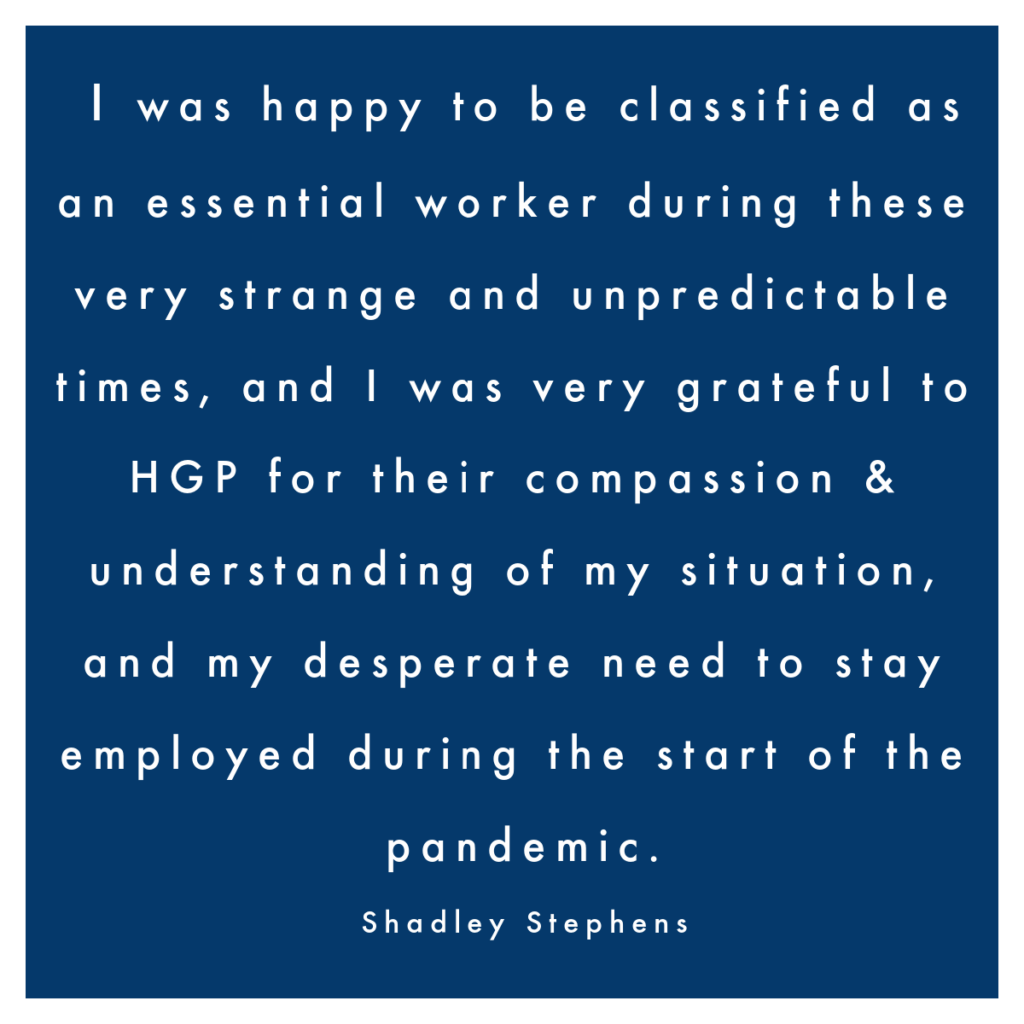 Leading up to the end of my year as Crew Lead, I thought I was ready to move on to something new, but the closer it got to my graduation day, the more nervous I became about life without this support network. That's when COVID-19 hit, and due to extenuating circumstances, my time as Crew Lead was extended. I was happy to be classified as an essential worker during these very strange and unpredictable times, and I was very grateful to Darrie, Mike, Ella, Andrea and HGP for their compassion and understanding of my situation, and my desperate need to stay employed during the start of the pandemic.
I have gotten so much from working here the past year and seven months. I came here broken and full of surrender and was introduced to a truly powerful network of people and opportunity. Darrie has been so wonderful, caring, and supportive. She took me in and treated me like one of her own at a time when I needed it most. If I hadn't met her when I did, things would have surely gotten worse for me. Angie has also left such a major positive impact on my life. She has been one of the kindest, most caring people to help me out no matter which one of my goals I was working on accomplishing. Her determination and ability to turn nothing into something has proven themselves on countless occasions and are truly inspirational to everyone blessed enough to know her.
Mike and Ella are two of the most awesomely amazing people I have ever worked with. They are both immensely great farmers, and they are just as wacky and off the wall as I am, and I enjoyed every minute of their presence. I also would like to acknowledge all of the Training Supervisors I've worked with in my time here. Ansley, Justin, and Lindsey were all very caring and wonderful people, and Andrea has showed me nothing but wicked mad love and respect, and you are definitely an asset to this organization. You are truly genuine and from the heart, and this place is extremely lucky to have you. You always go above and beyond to make sure that our needs are not only expressed but met as well.
Rubbertoe and Sandy, you have both been great to work with, and you are doing great as Crew Leads. And to my social workers, Stephanie, Will, and Dina, who have all gone out of their way to help me out however they can in bettering myself as a person. Finally, I'm super grateful to all the trainees I've worked alongside in my time here. It's crazy how this place can bring people from all different walks of life, and together they accomplish such great things. I'm truly honored to have each and every one of you in my life, and some of my most prized memories are of us right here on this farm.
In my time here at HGP I graduated from New Life, moved to an SLE, started school at Cabrillo, got a car, license, and insurance, completed my 18 months DUI program, got an apartment with my beautiful girlfriend Emily and her wonderful daughter Ava, and during this time I've also had the pleasure of working for Charlie and Maria at The Garden Company. They are both very kind and supportive people, and everyone who works for them are wonderful people as well, and they all genuinely care about me and my well-being. They have accepted me for who I am despite all my past decisions and flaws, and I very much look forward to working there full time.

I'm no longer afraid to leave this sacred space in which we share. Upon reflection of the time I've spent with this amazing organization, and how I will survive without their daily help and support, I came to a realization: There are plenty of people out there who need this experience now just as badly as I needed it a year and seven months ago, and my moving on will open up an opportunity for someone who may be stuck the exact same way that I was, and I truly hope that HGP finds them like they found me. From the bottom of my heart, thank you all, and I wish you all the best in life.
-Shadley Stephens, August 13th 2020